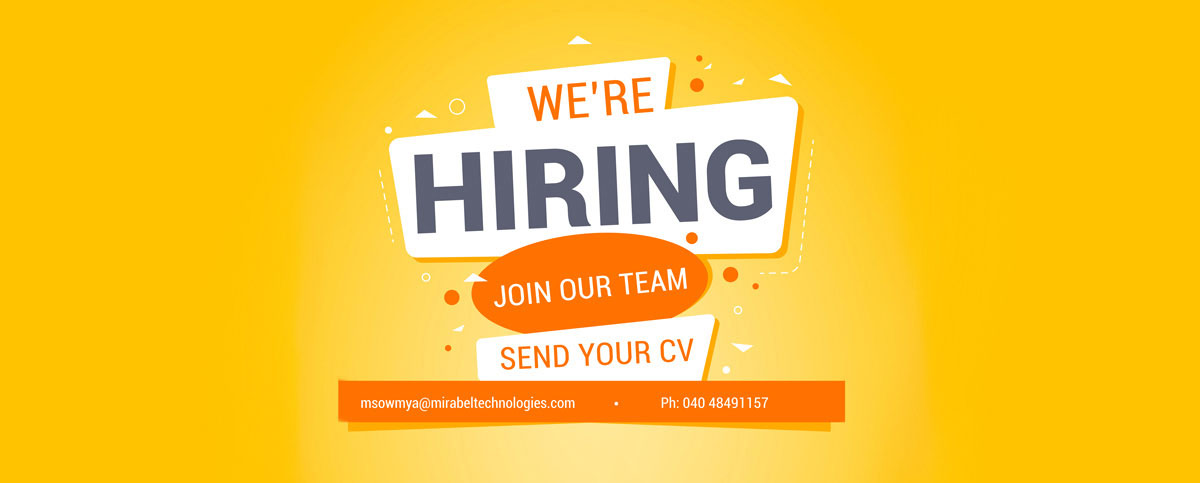 Mirabel Walk-In | 08 Feb, 2020 | Full Stack Web Developer (1-3yrs) & Manual Testing (1-3yrs) | Hyderabad
Mirabel Technologies Walk-In Drive for Manual Testing & Full stack Web Developer on 08th Feb, 2020 i.e. Saturday from 9:00am to 5:00pm. Interested and eligible candidates can directly Walk-in at the interview location below.
Eligibility Criteria:
Kapil Towers IT Block, 11th Floor (Unit No.2),
IT Park, Nanakramguda, Hyderabad – 500032.
Openings:
Full Stack Web Developers:
Node.js, Express JS, HTML, CSS, React.js, MongoDB.
Best as per the market Standards
Company Profile:
Mirabel Technologies is a fast-growing USA software company that specializes in the development of magazine management software products for a range of platforms. As the industry's first and most mature web-based platform we are ideal for companies who have multiple offices, employees who work from office and home. Mirabel's international reputation is built on its record of accomplishment in delivering quality solutions to its clients. It is here that we design, develop innovative applications, and deliver solutions to clients. Mirabel has an open and teamwork-oriented culture that values people's performance, creativity, and personal qualities.
Job Description:
Manual Testing (Exp: 1-3yrs)
Good knowledge on SDLC, STLC and Agile process
Understanding and Analyzing Test Requirements
Creating, Enhancing, Debugging, Running, Reporting Defects and Tracking
Generating Test Cases using TestNG XML and execute framework on local & Jenkins server
Having knowledge on DevOps, Maven, JavaScript and Jira will be added advantage
Full Stack Web Developers (Node Js & React JS): (Exp: 1-3yrs)
Experience in Node.js and frameworks available for it, such as Express or StrongLoop. Preferably Express.
Experience in building Rich UI components with React.js.
Strong understanding of JavaScript, its quirks and workarounds, experience on MongoDB.
Selection Process: Three levels of face to face technical discussion
‍
WALK-IN Drive Details:
‍Date: 08th Feb 2020‍
Time: 9:00am to 5pm
Contact: msowmya@mirabeltechnologies.com |040-48491157